Telehealth functionality added
Posted on March 10, 2020 by Michael
To meet the challenges presented to customers with the outbreak of COVID-19 coronavirus we have developed easy to use and secure Telehealth video conferencing functionality to allow you to continue to see your clients remotely.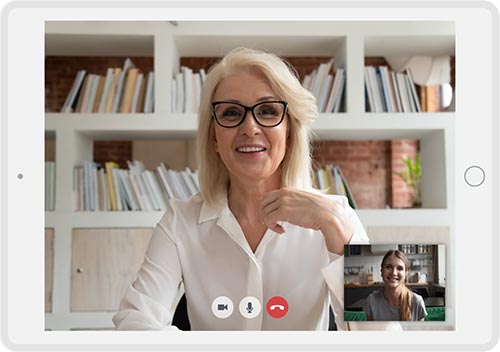 Please see below a description of how it works, info regarding security, confirmation of HIPAA compliance, and help on how to begin using it and pricing information for when the trial period is complete.
1) Secure peer-to-peer Telehealth video sessions via WebRTC technology
Secure communications across YellowSchedule telehealth video sessions is enabled by WebRTC technology present in modern browsers. All communication across video sessions are encrypted end-to-end.
Participants in a video session automatically negotiate separate DTLS/SRTP at connection time and all media shared is only sent over these secure peer-to-peer connections directly between Users and their clients.
2) Compliance
Telehealth video sessions are HIPAA compliant, PIPEDA & PHIPA compliant and compliant with GDPR privacy standards. They are a secure & compliant way of holding live sessions with clients.
Communications are encrypted, conversations are strictly between you and your client and audio/video content is never recorded on the system.
3) How to begin using it
Create a new service with the service type as "Video Session" (instead of "In Person") by going to:
– Settings (top right menu)
– Services List
– Add (or edit) a service
– Select "Video Session" as the Service Type.
(If "Video Sessions" are not enabled then please follow the instructions to enable them.)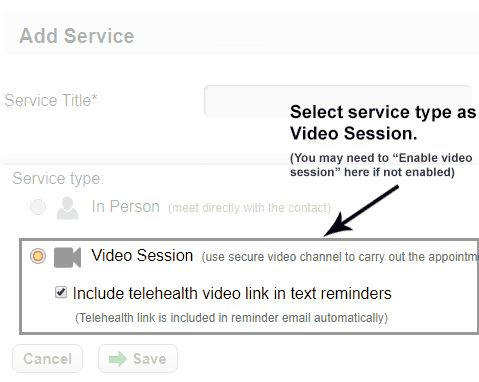 Once a Telehealth service has been created now you can simply create appointments for clients and select the new service.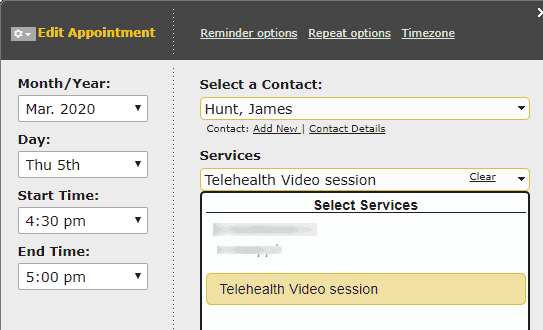 The client will be sent be sent the URL to initiate the Video session from their side through their reminders. They can choose to use any device such as phone, tablet, computer to comfortably chat to you on.
When it's time to start the video session you'll get an onscreen notification 5 minutes before and at the instant that the session is due to begin. Click the notification to begin the session (or you can also click directly into an appointment and click the "Telehealth Session" option to begin)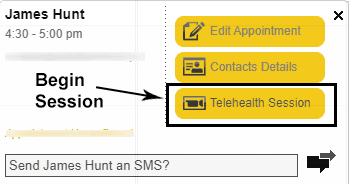 Telehealth sessions can not be started more than 30 minutes before the appointment is scheduled to begin and more then 15 minutes after the appointment is due to end.
4) Pricing
Pricing for the first month is free. After the first month pricing is at a per usage rate of $0.01 per participant per minute.
Enjoy secure HIPAA compliant Telehealth video sessions with your clients. Please let us know if you've any further questions.