User level calendar read/write controls
Posted on February 23, 2018 by Michael
We have introduced a way to provide admin level control over which users have access to make changes to appointments across calendars on our team and enterprise accounts.
When setting up a user there's three settings. Users can have:
1) Full write access to all calendars.
2) Write access to only their calendar, but view only access to co-workers calendars.
3) View only access to all calendars.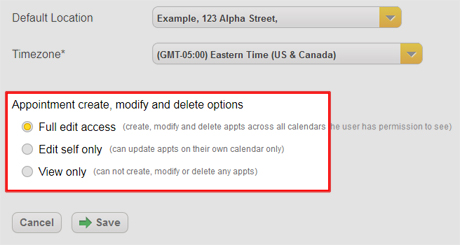 This works in tandem with the existing permissions system to give finer control over who can change appointments. So, for example, an individual user may have access to only a single team within part of a larger company. With these controls, they may still be able to view their peers' calendars, but they can be prevented from changing them.
If you want to try out these controls but don't see them in your account please shoot us a support message to enable this option on your account.