Web Summit – Your Business Networking Guide
Posted on November 23, 2014 by Killian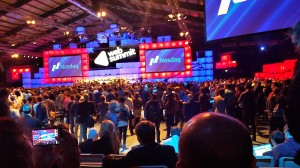 So 2014 was another successful year for Paddy Cosgrave and the Web Summit team in Dublin. Having come along way from their first event of around 500 attendees in 2010 this years Summit managed to attract over 22,000 attendees from all over the world!
For some the thoughts of that amount of people in one venue is enough to give you a panic attack and start sweating through your shirt, we know, we were in the thick of it! So to prepare you for next year's event here's our stress free guide to get over those dreaded anxiety attacks and sweaty hands allowing you to seal the deal with confidence.
Here is our own Web Summit psychology to prepare you for next year's big event:
Who, what and where to research!
Use your time leading up to the event to go through the seemingly endless list of – updated attendees posted online. Compile a broad list of people worth researching before gradually narrow it down to those worth contacting. Prior to the Web Summit, email, during the Summit, Tweet, Tweet, Tweet!
Mobile credit and internet.
While you may meet some interesting characters at the RDS, the real networking takes place at night. Ensure you have a way of being able to arrange meeting over a pint . . or a few with potential partners and/or investors. Needless to say with over 22,000 tech savvy attendees in one area, it's going to be a struggle for some wi-fi signal. The data from your mobile network will be a life saver in this case. If you're a visitor to Ireland we recommend you buy a prepay sim card for your phone. It's important to be contactable, the small spend is worth it.
It's a networking event – not door to door sales.
Although you may be tempted to bring your entire sales team along, armed with their pitch in hand and ready to convert every person you approach or are approached by, the reality is, most attendees aren't interested in buying from you, but are more interested in what you do and how it can benefit them. The key thing about these sort of events is building relationships you can follow up with at a less frantic stage.
Believe in your own product and others will too.
You're surrounded by some of the most influential and inspiring people in modern technology, enjoy yourself! Be happy you're there, be excited about your business plan and the people you meet will too.
It's a long day and if you're the nervous type bring a spare t-shirt and deodorant to freshen up throughout (it can get hot in there if you're not used to it). With a quick change it's amazing how much this can boost your confidence and get you back onto the playing field.
Warm up to guests.
For some it can be both a daunting and overwhelming experience having person after person jump at every opportunity to tell you about their company or new product. Don't be the guy whose only function is pitch mode! You're in Ireland, be more Irish, we love to talk about the weather or recommend the best place to order the perfect Guinness. It doesn't have to be all business, enjoy the social aspect too, let them ask you about your company, this is where you'll receive the most honest feedback.
It's all about the swag . . . and business cards.
We're not talking about the Justin Bieber kind of swag here (oversized pants hanging by your knees). We're talking about finding creative ways to stand out. We used brightly coloured yellow hoodies and carried around helium balloons with 'Ask me about Yellowschedule' and it worked. For the more interested parties we handed out business cards and USB business cards loaded with our presentation and some PR articles. Unlike the majority of companies who opted for handing out pens, we handed out bottle opener lighters – insert typical Irish joke here – These went down a great success at the night summit!
As the event ends, business begins.
Only trade cards with people you are interested in following up with after. Think of the trees. It's easy to just give and take cards so relax and ask whether you'll need this, you don't want to misplace the more important contacts. Although the Web Summit has ended now is the time to follow up your newly formed contacts and embark on new and exciting relationships.