Joomla Online Appointment Scheduling Extension
Posted on June 15, 2015 by Killian

What is Joomla?
Joomla is an award-winning open source CMS solution, which allows virtually anyone from beginner to developer to build websites and online applications.
Due to its ease-of-use and extensibility, Joomla has become one of the most popular forms of website software available today for online magazines, small businesses, non-profit and organizational websites and even personal homepages.5151
What can I do with Joomla?
Well, now, thanks to YellowSchedule – the easiest and most powerful client scheduling software in the world, you can start implementing your appointment scheduling software onto any Joomla page by downloading and installing our online booking calendar extension, hassle-free.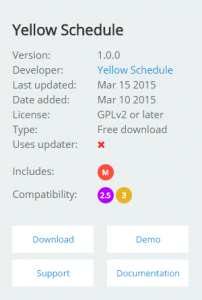 What does YellowSchedule bring to Joomla?
The YellowSchedule online scheduling software plugin for Joomla brings an easy to integrate appointment booking widget to Joomla for the first time. This simple, attractive plugin places our lightweight javascript booking calendar widget on your website. Allowing you to take client bookings directly from your website 24/7.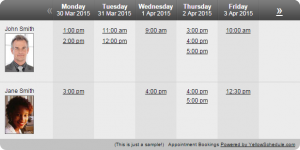 Install YellowSchedule for Joomla.
You need to register at YellowSchedule.com to get the required business key for configuration.
Step 1:
Go to Joomla.org
Step 2:
Donwload the extension to your local machine as a zip file package.
Step 3:
From the administration end of your Joomla site select Extensions then Install/Uninstall.
Step 4:
Click the Browse button and select the extension package on your local machine.
Step 5:
Click the Upload File and Install button.
Step 6:
Enjoy using your YellowSchedule extension for Joomla!
As always, we're available at your beck and call, so feel free to contact us by mail or on the Yellow phone should you ever experience any difficulties, or just fancy a chat!
Start organizing your business Today!