Frequently Asked Questions
Can the system support multiple users across multiple teams?
Absolutely. We have excellent support for large team and enterprise accounts. The system supports multiple users across multiple teams. However some of this functionality is disabled by default. We'd advise you to contact us on support@yellowschedule.com if you have particular requirements and we can work with you to ensure you get the most out of the system.
Does the scheduler allow you to book individual and group classes?
Yes it does. If it's not already switched on then you must enable Group Scheduling first. To do this click:
1) Settings (top right menu)
2) Calendar Settings
3) Enable the option for Class Scheduling
Now when you create appointments you'll be able to select multiple clients for the one group appointment.
Who uses YellowSchedule?
Therapists, Dentists, Doctors, Consultants, Sports Coaches, Driving Instructors, Beauty Salons, Hairdressers, Physiotherapists or anyone in a consulting/service based role will benefit from YellowSchedule.
More info on Who uses YellowSchedule.
I need detailed notes for my clients.
No problem! Not all business are the same. Most may need the ability to be able to store data other then just firstname, lastname or address.
You can easily add in any additional fields for your patients such as Nationality, Number of Children or other fields which we haven't even thought of yet but may still be relevant to your practice.
Please see the user guide for setting up Custom Data Fields where we go through an example of setting up a new custom data type.
How does YellowSchedule save me money?
Appointment reminder systems reduce no-shows on average by 30%, with variations depending on industry sector.
However YellowSchedule's unique response based system, enables you to see exactly who is and isn't attending their appointment. Knowing exactly which contacts will not attend an appointment allows you to rebook vacant appointment slots therefore saving you money, reducing your waiting list and making more efficient use of staff resources.
How do reminder responses work?
You set your own reminder intervals and automatic appointment reminders are despatched to your contacts to remind them of appointments.
YellowSchedule's intelligent system invites your contacts to respond to texts and mails with a simple Yes/No response. That information is then gathered back behind the scenes to update your YellowSchedule Calendar. So you now see (with green/red dots) who's confirmed or not.
HIPAA Compliance.
All US based health care organizations need to be HIPAA compliant. It's up to each organisation to ensure compliance and YellowSchedule enables your organisation fulfil all its obligations in regard to the electronic storage of patient information.
YellowSchedule enables our customers to:
Define user roles.
Track who did what.
Ensure data security.
Ensure maximum 'up time' of the system and availability of a backup.
Does YellowSchedule support multiple users?
Yes. We support multiple user diaries on one account. With a multi user account, each user can control their own privacy settings and can choose to share diary access with selected others or keep it private.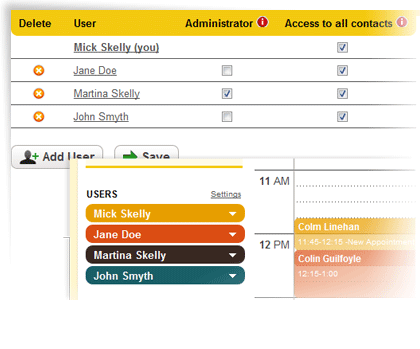 Can I sync my Schedule with iPhone/Google/Outlook etc..
You can easily Sync your YellowSchedule calendar details with any tool which supports *.ics calendar file format. Such as Google Calendar, Yahoo!, Outlook, iOS (iPhone, iPad, iTouch), Android etc.
We made user guide for integration with popular tools
Can I keep notes on my customers with YellowSchedule
Yes. We include a number of fields such as first name, surname, email, mobile number and a notes field. You can also easily enable other fields or even create your own extra data fields where necessary to suit your expanding practice.
Client data is securely stored and encrypted in our database allowing your processes to be HIPPA compliant.